Luxury campsites in the South of France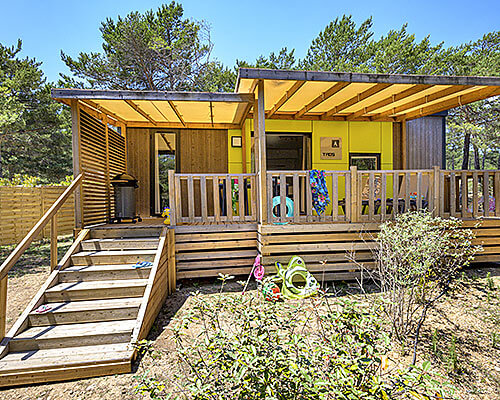 The Ciela Village spirit
You are about to experience your best holiday yet at a Ciela Village campsite!
In the heart of the Verdon Regional Natural Park, our 5-star La Farigoulette campsite invites you to stay in an exceptional setting.
We want to offer our guests the opportunity to combine nature with comfort during their stay.
On our forested campground, you will stay on spacious pitches orin modern mobile homes, fully equipped, including a deck so that you can relax with your family or friends in the fresh air. It would be a shame not to take advantage of this incredible setting at a campsite equipped with personalized amenities and a wide variety of fun and water-based activities and sports for all ages.
Our campsite is located in a rich region: breathtaking landscapes, incredible biodiversity and small villages of charm and character.
Discover the biggest canyon in Europe, the Verdon Gorges, from our ideal location.
The setting invites you to relax and unplug: reconnect with nature, far from the daily grind. At our Ciela Village campsite, we guarantee a memorable holiday in an exceptional setting.
At establishments in the Ciela Village group, we care about the well-being of our guests and the family-friendly spirit above all. We bring together everything you need for a unique experience that you will long remember!
Our teams are more committed than ever to providing beautiful moments of happiness to share with family and friends! Smiles, good humor and togetherness await you during your stay!
Ciela Village group's 4 and 5-star campsites
Was your stay at La Farigoulette located in Saint-Laurent-du-Verdon a success? How about discovering a new Ciela Village campsite in a new destination?