Your campsite with activities and kids' club for a 5-star camping holiday in the Verdon Gorges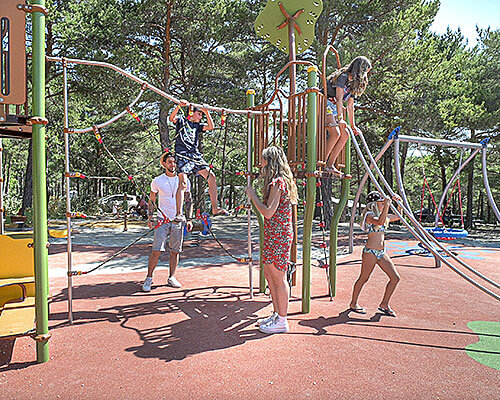 Parents and children alike will enjoy your family holiday at La Farigoulette, campsite in the Verdon.
Whether you prefer spending time all together or relaxing while your children enjoy the activities with our counselors, our campsite takes care of everything for a successful family holiday.
A campsite with quality athletic facilities for all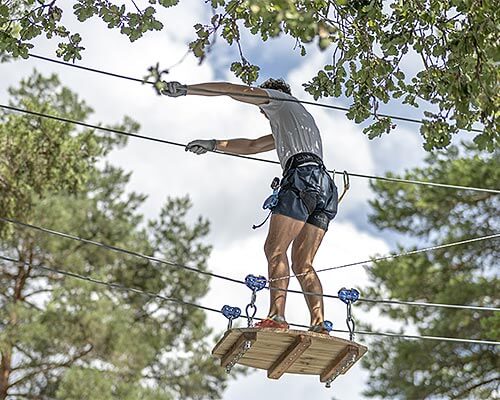 At La Farigoulette, you can play sports in the canyon or participate in tournaments organized by the campsite and play football, basketball, paddle tennis or archery. We also have petanque and mini-golf, as well as an outdoor fitness area.
La Farigoulette has a sports area with tennis, paddle, badminton courts and a multi-sport field. A great opportunity to try racquet sports!
Activities on-site at our Verdon campsite
| Activities | Low season | High season | For a fee |
| --- | --- | --- | --- |
| Kayaking | | | € |
| Canoeing | | | € |
| Pedal boat | | | € |
| Electric boat | | | € |
| Paddleboarding | | | € |
| Multi-sport field | | | |
| Tennis | | | |
| Paddle tennis | | | |
| Volleyball | | | |
| Badminton | | | |
| Ping-pong | | | |
| Outdoor Fitness Area | | | |
| Petanque | | | |
| Playground | | | |
| Bouncy castles | | | |
| Archery | | | |
| Mini-golf | | | |
| Heated pool | | | |
| Wading pool | | | |
| Electric bicycles for rent * | | | € |
| Ropes course | | | € |
* Electric bicycles for rent with our partner Bee's at the campsite entrance
Activities near our Verdon campsite
| Activities | Distance | Low season | High season | For a fee |
| --- | --- | --- | --- | --- |
| Les Chevaux du Verdon | 4 km | | | € |
| Les Verdoniens | Depending on the service: between 28 km and 80 km | | | € |
| Quad Escape | 18 km | | | € |
| Gy'r Escape * | 18 km | | | € |
| Quinson Prehistory Museum | 8 km | | | € |
| RockSiders (canyoning, rock climbing, spelunking) | 18 km | | | € |
| Explore Aventure | 70 km | | | € |
| Hiking with vulture watching | 50 km | | | € |
*starting 6/1
Campsite with kids' club at La Farigoulette
At La Farigoulette, we are committed to families. This is why we offer a kids' cub on-site for no extra charge. Activities for all ages at the Junior Club (for ages 5-12): from painting to sports, from make-up to group games, there is something for everyone. The campsite also has a bouncy castle. Children can't resist jumping in the bouncy castle during their stay at our 5-star establishment! Everything is supervised by the camp counselors, of course! We have regular tournaments on the campsite multi-sport field for teens. We have football, basketball and volleyball, something for everyone. Our counselors also offer games, canoeing and paddleboarding classes and evening parties for your teens.
Junior Club 5-12 years
Outdoor games
Arts and crafts
Make-up
Sports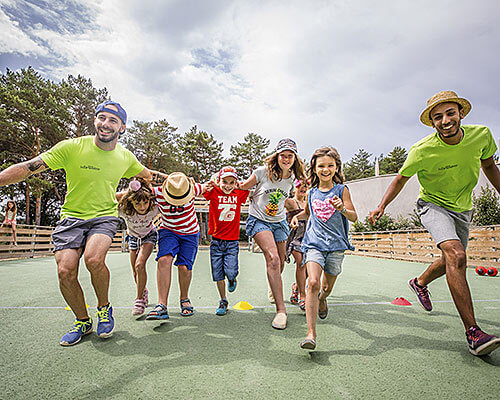 A campsite with original activities for the whole family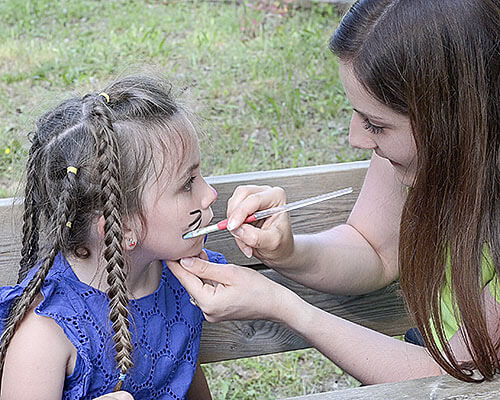 La Farigoulette campsite offers a wide selection of activities to spice up your holiday.
Our campsite hosts unique activities and those typical of Provence:
A market with local artisans where you can discover local products from the Provence-Alpes-Côte d'Azur region such as lavender, cheese, honey, and of course olive oil
A guide to the Alpes-de-Haute-Provence to help you take full advantage of the region's treasures
But also more sporty activities:
A ropes course for all levels

Come and experience a fantastic adventure in the heart of the Verdon Natural Regional Park where the sky ends and the lake begins in our beautiful pine forest! Come and discover our brand new treetop adventure park on your holiday at our La Farigoulette campsite. Perched a few metres from the ground, you will be able to yomp between the trees in complete safety. The different courses offered mean the young and old alike can get their fill of exhilaration!

With family or friends, Accrolac du Verdon opens its doors to a new world of thrills and games for kids aged 2 to 99!

On the programme: for young adventurers, crazy treetop courses with a continuous belay system and trampolines to hone their sense of balance and desire for adventures in the trees; from the age of 6 and adults, a succession of several treetop courses (monkey bridges, suspended walkways, giant zip-wires, etc.) will complete this beautiful adventure park with fabulous trampolines for all ages!

For experts, Tarzan jumps and Quickflight are included in the price.

All of the courses are equipped with a reassuring design and optimal safety with the continuous, fully secure belay system that runs from the start to the end of the courses thanks to a continuous "COUDOU PRO" line and supervised by a teams of CQP OPAH (Certificate of Professional Qualification in Acrobatic Courses at Height) holders! Furthermore, through the original treasure hunt at Accrolac du Verdon, you will discover: "CURIOCITY", the flora and fauna around the lake but also a journey back over several million years in the Verdon Natural Regional Park: EXPLORE AND HAVE FUN DISCOVERING.

Book on site or by calling: +33 (0)7 65 18 59 21

OPENING PERIODS :

OFF SCHOOL HOLIDAYS: Open on weekends, Wednesdays and public holidays:

Departure times according to the season (consult us)

SCHOOL HOLIDAYS (spring, summer): Open every day

OUTSIDE OF THESE PERIODS: We open by appointment

During the week to groups, associations and schools (please consult us).

We look forward to welcoming you!

Electric bicycles for rent for exploring the most beautiful trails in the department

And what if you could explore the Alpes-de-Haute-Provence and Haut-Var regions on an electric bike?

With Station Bee's Verdon, you can pedal through the lower Verdon Gorges and admire the region's scenery and traditional villages.

We adapt to your needs: electric bike rental for riding with your family or group, guided and family-friendly tours with your children… anything is possible. All you have to do is ask! You can choose between electric mountain bikes for a work-out riding in nature and electric hybrid bikes that are better suited to roads and wide trails. With our varied selection, you can enjoy touring the region on your bike!

All of our rentals include offers for Family, Discovery and Athletic rides.

Bike accessories for rent: trailers, tandem attachments, satchels, child seats.

We recommend reserving 24h in advance to ensure bikes availability.

Contact: +33 (0) 6 47 94 02 19 – verdon@stationsbees.com
At La Farigoulette, we have thought of everything so that you can enjoy an unforgettable holiday with your family.
Verdon holiday: Family-friendly evenings at the campsite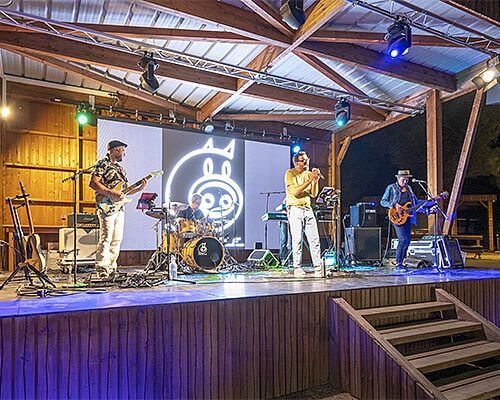 The campsite team also hosts many evening events and shows. After a great meal at the campsite restaurant, you can enjoy concerts, the Ciela parade, blind test, karaoke, dances with a DJ and performances by musical groups, hypnosis and magic shows. Not to mention our foam parties! You will head back to your luxury accommodation with a smile on your face after a full day! Then, a hot shower and a little reading before bed to rest up for another day of vacation.