Restaurant & amenities at your campsite in the Verdon Gorges
The restaurant at La Farigoulette, 5-star campsite
When you choose to stay at La Farigoulette in the Verdon, near the Verdon Gorges and the famous Lake of Sainte-Croix, you will enjoy a holiday surrounded by nature in the heart of the Provence-Alpes-Côte d'Azur region. You have everything you need at the shops near the campsite. Staying at our 5-star establishment is even better than a hotel!
Holidays are for resting, relaxing and good food, right?
After exploring the Verdon Gorges, a top tourist destination in Provence, you might not feel like getting groceries or cooking when you get back to the campsite. Just a few steps from your pitch or mobile home, you can enjoy delicious dishes with Provencal flavors at the campsite restaurant! For lunch, dinner or even both!
We offer quality cuisine and local specialties just for you. Choose a table on the patio or indoors and browse the menu while you sip a drink! Here, all of our dishes are made in-house. Make your choice and treat yourself!
We also have a variety of fast food and take-out options on-site.
Amenities at La Farigoulette campsite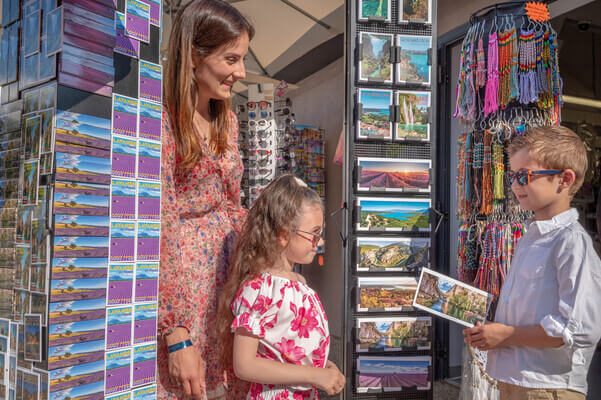 When you spend your holiday at La Farigoulette campsite, near the largest canyon in Europe, you will have access to a wide variety of amenities, including laundry and gas grill and refrigerator rental. No need to leave the campsite and drive to get your baguette or croissants for breakfast. Just visit our on-site grocery store/bakery. If needed, our teams can also provide you with a baby kit or iron if you reserve one.
A campsite with many amenities
Grocery store
Fresh bread
Restaurant Bar
Pizzeria
Meals to go
Heated pool and wading pool
Water sports center
Sports fields and playgrounds
Stage
Information Center
Electric car charging terminals
Laundry facilities
Baby kits
Refrigerator rental
Gas grill rental
Camper service area
Grocery store, Bakery
What a treat to enjoy a grocery store/bakery right at the campsite. You will find all the essentials you need during your stay just a few meters from your rental.
Laundry facilities
The laundry room is available for use during your stay. Even during the holidays, you can do laundry in a flash without leaving the campsite!
Baby Kit (crib, high chair, bath)
Upon request, the campsite can provide you with a baby kit for the duration of your stay. No reason to overload your trunk for your trip!
Refrigerator
You can rent a refrigerator during your stay, which will be delivered directly to your pitch. Comfort, even outdoors!
Chalet Information Desk
Come discover our Chalet Information Desk, a space located next to the playground, across from the restaurant. There, you can obtain all the tourist information you will need to explore the many facets of our beautiful region during your trip. The Verdon Gorges, an amazing canyon carved out by the Verdon River, form a natural border between the Var and Alpes-de-Haute-Provence. Here, you can enjoy breathtaking views and a wide variety of water sports. You will want to dive right into these crystal clear waters! Thrill seekers can go canoeing, kayaking, rafting or canyoning on these mythical waters. And of course in the Verdon, we have exceptional hiking! The many trails lead you to breathtaking views and are accessible to all levels, beginners to experienced hikers. The best known trail is Blanc-Martel, but there are many others if you prefer to take the path less traveled. Our team will be pleased to let you know where all the best tourist attractions and activities are in the region. We also have many brochures and tourist maps so that you cab be sure to take advantage of the best that the Verdon has to offer!