Provencal villages near the Verdon Gorges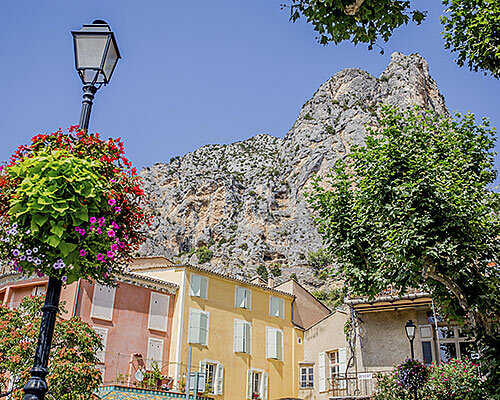 The Verdon is more than the canyon; it is also an extraordinary region because of its Provencal culture. During your stay at our Verdon Gorges campsite, you can discover many traditional villages, each with its own identity and special characteristics. These villages and towns with their picturesque charm in the Verdon Regional Natural Park will captivate you. You can stroll through the narrow cobblestone streets and enjoy the local markets where you can treat yourself to quality local products. The essentials include: Moustiers-Sainte-Marie classified as one of the "Most Beautiful Villages in France" with its suspended star and church perched on top of the rocks; Tourtour, also classified as one of the most beautiful villages in France, the gorgeous Sillans waterfall, Gréoux-les-Bains and with the thermal baths, Rougon and its famous Point Sublime, Entrevaux and the citadel at the top of the hill, Bauduen on the banks of the Lake of Sainte-Croix with its beautiful beaches. You will also love the lavender plateaus as far as the eye can see in Valensole, as well as the village of Bories in Forcalquier and the Carmes Fountains in Barjols.
Cultural tours and museums in the Verdon
The Verdon is a region rich in history. You can take many tours at the approximately sixty prehistoric sites. You can visit beautiful museums to learn more about the region's expertise and history. Family-friendly tours during your stay in the Verdon Gorges.
Prehistory Museum of the Verdon Gorges

In Quinson, you can visit the Prehistory Museum of the Verdon Gorges, one of the largest museums on prehistory in all of Europe with a reconstruction of a prehistoric village and a life-size herd of animals. Its fun exhibit with explanatory panels, videos and more will take you back to the past.

Maison des Gorges du Verdon

In La-Palud-sur-Verdon, the Maison des Gorges du Verdon is the perfect place to learn about the fauna, flora or history of your exceptional host for your holiday: the Verdon Gorges.

Ceramics Museum

If you stop in Moustiers-Sainte-Marie, don't forget to visit the Ceramics Museum, where you can learn all the secrets of how ceramics are made and admire the museum's most beautiful works of art, no less than 300 pieces, exhibited in the pretty windows of a mansion in the center of the village.

Tourneurs-sur-Bois Museum

At the Tourneurs-sur-Bois Museum, located in the heart of the village of Aiguines, you can learn more about box wood, its history and how studded boules are made, which are none other than the ancestors of today's petanque balls.